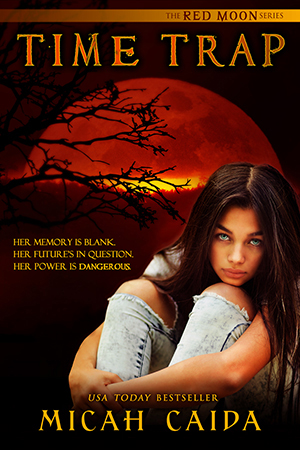 ISBN: 978-0-9886079-3-4
TIME TRAP
Book 1 in the Red Moon Trilogy- Available Now
Rayen's memory is blank. Her future's in question. Her power is dangerous.
I awoke in an unknown desert landscape that seemed familiar, yet I had no real memory of this place or…who I am. A strange ghost told me my name is Rayen and that I'm seventeen, but he disappeared just as I could have used some help. I was captured along with others my age who said the land was called Albuquerque, then I was dropped at a private school where at times things seem as familiar as the nearby mountain range and as alien as the image of my face. Everyone thinks I'm a Native American runaway, whatever that is, but the school has offered me a place until they learn my true identity, or my memory returns. As if things weren't confusing enough, when I'm stuck working with a smart-mouthed computer savvy boy and meet a strange, but gifted, oddball girl, the three of us discover a secret that will threaten the existence of this world - and the future. In the middle of all that, I'm turned inside out by a seventeen-year-old boy who is as deadly as he is attractive and thinks I'm the enemy.
Available Now on EBOOK and PRINT
See more on Time Trap at Goodreads.
TIME RETURN
Book 2 in the Red Moon Trilogy - February 2014
Her Time. His Time. No Time
Rayen promised to return, Gabby must return, and Tony can't return.
Three teenage friends are connected by a shared secret that forces a decision with consequences no one expects. When Rayen arrives on the Red Moon sphere again, she finds shocking changes. Her arrival causes more upheaval and danger for the MystiK children, creating a heart wrenching challenge for Callan who must choose between duty and holding onto the one girl he can't have. But walking away is harder than he expects when a new MystiK male in the sphere is poised to take Callan's place. Under threat of attack from an unexpected enemy, Rayen and Callan must put their personal feelings aside to unite a village in chaos.
Choices backfire, trust is forfeit and alliances shift as elements of the Damian Prophecy begin to fall into place and the time of reckoning is closer than anyone expected.
Now available at Kobo and Google Play/Books
TIME LOCK
Book 3 in the Red Moon Trilogy - Available NOW!
His duty. Her destiny. Their last hope.
Every minute counts – literally – as Rayen races against time and impossible odds to deliver a one-of-a-kind computer to the Sphere. Failure means Callan's death at the hands of his TecKnati enemies. The problems don't stop there. Rayen, Tony and Gabby's battle to save their MystiK friends triggers a collision course of two worlds 166 years apart.
Countdown begins now for when the Red Moon sets for the last time.
Also at KOBO